A Few Words About Us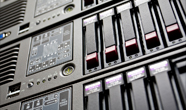 100% Network Uptime! An Industry FIRST!
ABV Hosting takes pride in our commitment to outstanding reliability, and that's why we deliver nothing less than a 100% uptime guarantee for our network. How can we do that? Simple. We use strategically located N.O.C./datacenter that allows us to connect DIRECTLY to the major Internet backbone providers and thereby completely eliminating the telelphone company.

In the unlikely case that our primary providers go down, our Data Center consists of diverse paths to other Tier-1 providers. APC units provide conditioned power to all our clients servers, switches, and routers.